Gas Processing train #2 is commissioned and became fully operational. The process train consists of gas dehydration, compressors, turboexpander, low-temperature condensation units, rectification column, nitrogen station and other utility systems. New process train capacity is 1.6 mmmscmy of the associated petroleum gas streamed in from Varyegansk compressor station (Khanty-Mansyisk Autonomous Region, Yugra). A new pipeline of over a 100 km for transportation of the feed associated petroleum gas was constructed to link the existing compressor station with the process plant. Due to enhanced capabilities the process plant is now able to receive and process the feed gas from Russneft production fields. New process train end products are: NGLs type A and B and dry stripped gas. Dry stripped gas is streamed down Gazprom gas transportation system, while NGLs are transported via pipelines to Noyabrsk loading rack and Tobolsk-Polymer for further processing. Completion of the second process train permits Vyngapur gas processing plant to increase its associated petroleum gas processing capacity from 2.8 to 4.4 mmmscmy.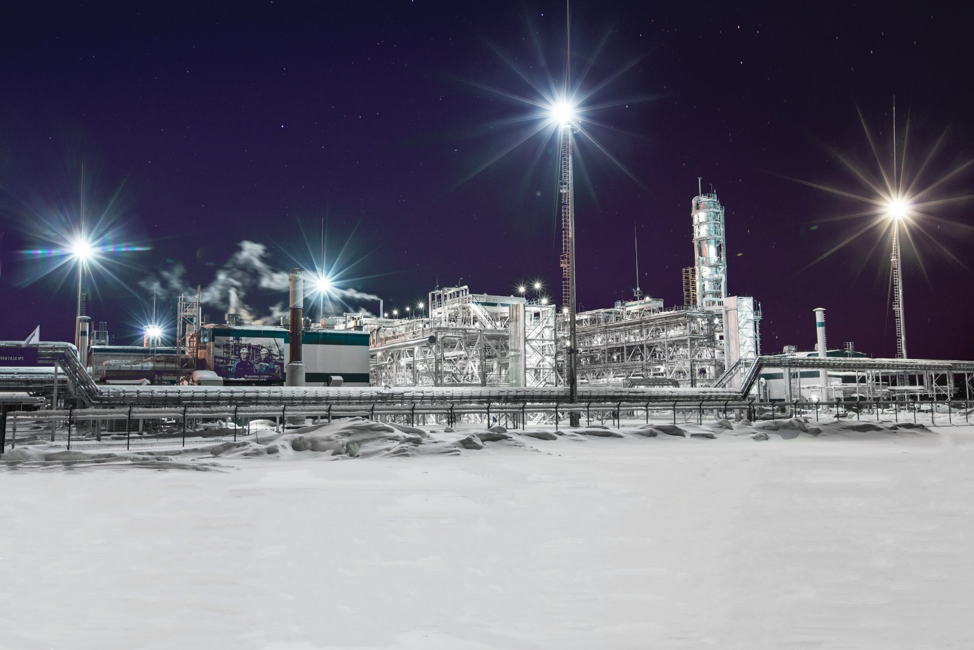 Process train #2 operation is based on cooling the gas to low temperatures where partial condensation of the compressed gas occurs, then high pressure separation takes place, then isentropic expansion of the gas part at the turboexpander and further end products stabilization at the rectification column.
Cooling down is handled by the Chart E&C multi-stream plate fin brazed aluminum heat exchangers supplied by Premium Energy in march 2015 where cold recuperation from the dry stripped gas product and high pressure condensate exchange heat with the feed gas. Brazed Aluminum plate fin heat exchangers feature numerous positive characteristics: large area of heat transferring surface; low budget cost and light weight, these ensure heat transferring accuracy of up to 1˚С and are highly efficient (UA); low engineering, transportation and maintenance cost. A perfect match for low temperature and cryogenic applications.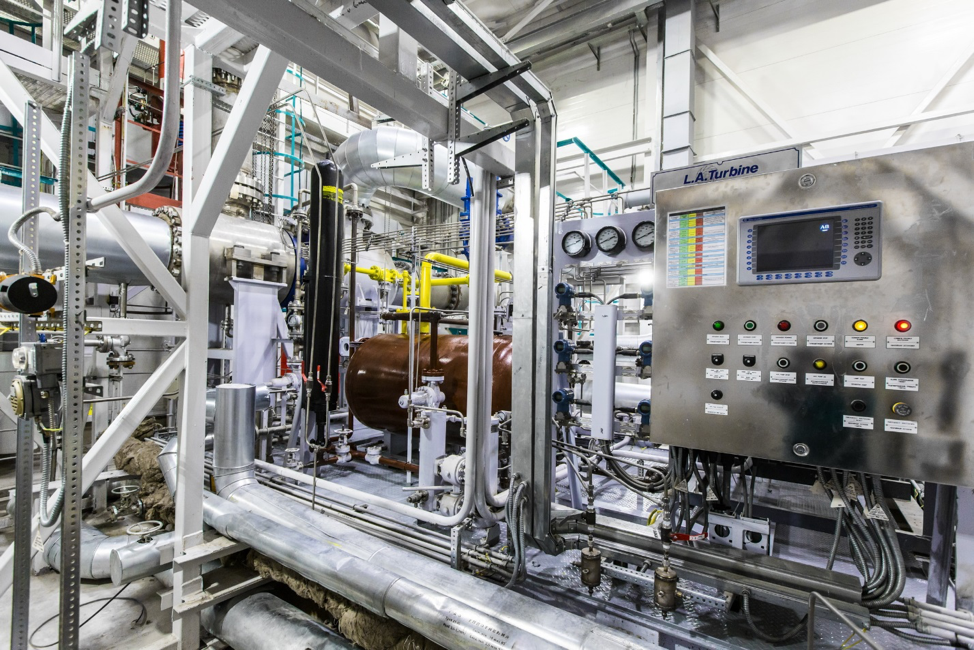 There's no artificial chillers involved at the process. A single use of refrigeration is the isentropic expansion of the gas at the L.A.Turbine Corporation turbo-expander unit with the efficiency coefficient of at least 0.80. rotating power generated by the expansion process drives the compressor of the dry stripped gas end product.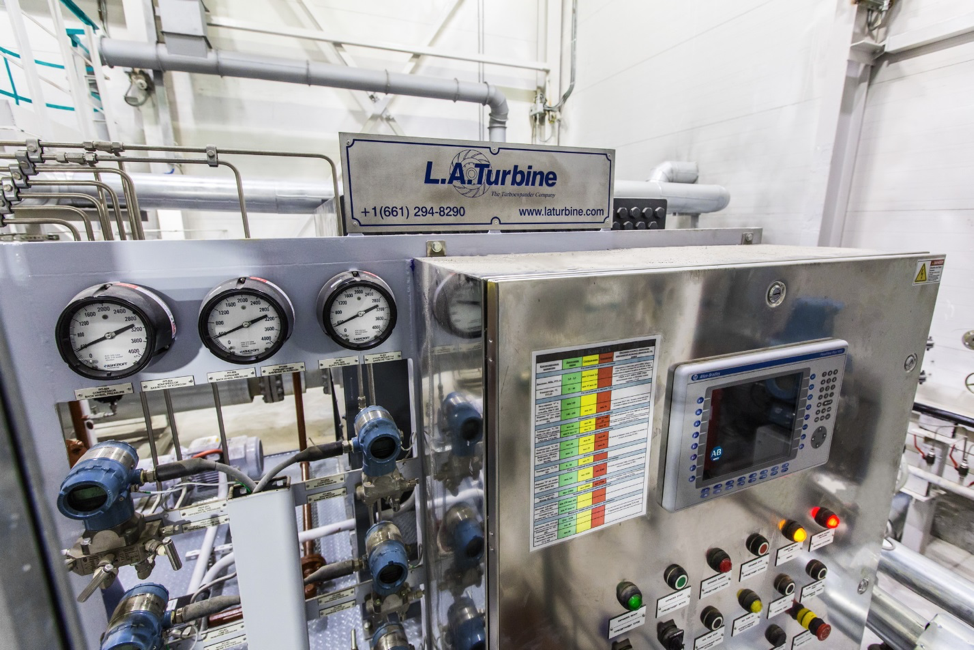 Redundant turboexpander is unnecessary due to Premium Energy guarantees. Shall maintenance works be necessary for the turboexpander, a bypass line with a JT valve will handle the process. This is a temporary measure only as C3+ extraction coefficient will decrease, and the dry stripped gas will not be so dry.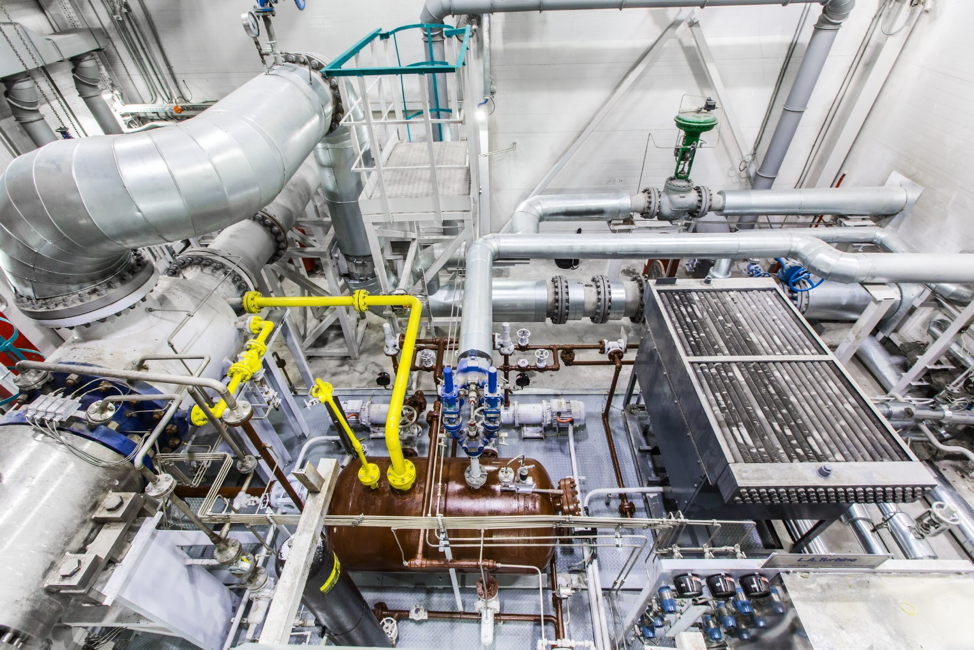 Turboexpander-compressor unit comes with its own housing equipped with all the necessary utility devices and instrumentation that ensure an effective and safe operation regardless of the harsh ambient conditions.
The housing comprises a hoisting apparatus to allow for a field inspection and maintenance operations of the unit. Gas detection and fire-fighting devices are also fitted to the housing guaranteeing safety across a wide range of possible processing scenarios.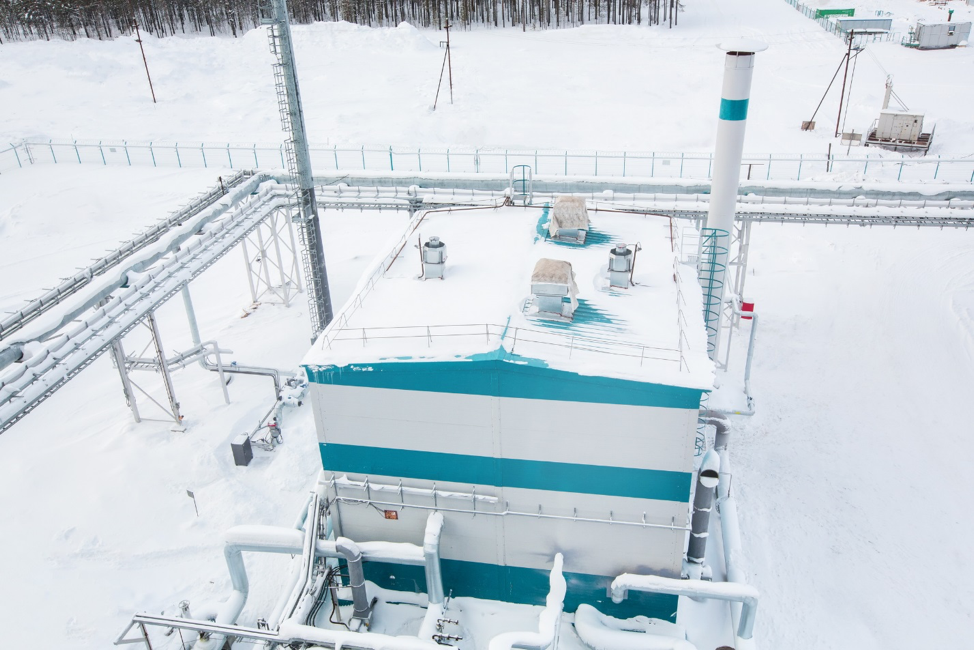 The result of complex testing of the process train prove that the facility reached design parameters of end product extraction (99% of С3+ removed), end products meet the design requirements.